Styles
JMJ WETSUITS produces a wide range of styles designed to be customized to the diver's specific needs. With over thirty years experience in crafting custom wetsuits there are few requests we haven't heard and few solutions we haven't tried. The following styles represent some of the more popular configurations of Diving wetsuits. All of these are available in various thicknesses and with different interior linings and can be furthur accessorized in order to produce the wetsuit that is perfect for you.
Farmer John & Jacket Combination - Style # 2110

This traditional 2 piece design has been serving divers well for around fifty years. The two piece design allows for more versatility in use and the double layer of neoprene over the entire torso provides for maximum warmth. The John and Jacket can be done in different thicknesses to fine tune warmth and buoyancy, and the jacket comes with either a short leg step thru design or a beavertail pullover design with an available attached hood- Style # 2115.
7 mm Beavertail Jacket with Attached Hood. Nylon exterior with choice of interior linings. Raglan sleeve with pre bent elbow. Heavy duty non-corrosive Vislon zipper. Available with Straight, Diagonal, or side zipper with Hook & Loop Beavertail closure. Click on picture for larger image.
One Piece Fullsuits - Style # 2120
The One piece Fullsuit with a rear entry zipper has become very popular with divers in many areas. The flexibility and freedom of movement of a one piece suit works very well for many activities that the modern diver is involved in. While not providing as much insulation as the two piece design the Fullsuit is effective on it's own in many conditions and can be used with an interior hooded vest or an exterior short john for colder conditions. It can also be ordered with a front slant entry zipper.
7mm Rear Zip Dive Fullsuit. Glued and Blindstitched construction with lycra binding. Choice of Interior Linings. Glued and blindstitched zipper installation with interior flap. Ergonomic Swim Position Pattern. Flexible panels at elbows & behind knees for ease of movement. Click on picture for larger image.
One Piece Fullsuit with cross chest zipper & attached Hood-Style #2125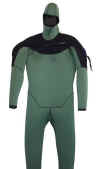 The cross chest front entry zipper has proven to be the best way to integrate an attached hood into the One piece Fullsuit design. Far easier to open and close it also allows for more stretch across the shoulders and back of the suit. The attached hood eliminates water entering down the back of the neck for a very warm and flexible fit. Becoming very popular as a one piece solution to most conditions it can also be used with vests and shortys underneath for frigid conditions.
7mm Freediving Fullsuit with Titanium Neoskin interior. Front cross shoulder entry zipper with 1.5mm interior water dam. Attached hood provides warmth in a one piece design that allows excellent flexibility. Available in 7, 5 & 3mm or in combinations thereof. Knife sheaths and wide variety of neoprene pockets and accessories available, as well as a relief zipper. Comes standard with supratex cocking pad and knee pads. Click on picture for larger image.
Old School Surf Jacket - Style # 2306

3mm Smoothskin Beavertail jacket. Classic look. Glued and Blindstitch construction with zig-zag hemming. Warm and flexible. Heavy duty non corrosive Vislon zipper. Available with nickel plated Twist Lock closures (as shown) or hook and loop closure. Click on picture for larger image
Old School Surf John - Style # 2305

3mm Smoothskin Farmer John. Glue and Blindstitch construction. Left shoulder Hook & Loop closure for easy entry. Also available with back zipper or deep scoop step in neck. Nylon exterior knees, crotch and seat for more durability. Click on picture for larger image.
Polar Fleece Dive Coat- Style # 2184
400 Denier Coated Nylon exterior with soft Polar Fleece interior. A great coat for out on the water, after a dive or just wearing around. With 2 fleece lined exterior pockets and an inside chest pocket for keys. Cuffs can cinch tight with hook & loop closures and hood has a drawstring with barrel locks for stay put adjustment. Click on picture for larger image.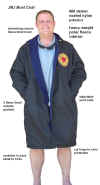 Copyright (c) JMJ Manufacture, Inc. 2003